La Salle County – It's been three years since the Starved Rock Country Marathon and Half Marathon were able to run their full set of three races – the 5K, the half marathon and the main hub on La Salle County Day Celebrating the Run, the complete, 26-2 mile Starved Rock Country Marathon .
For the 74 full marathons, 235 half marathons and 101 5km runners who crossed the finish line Saturday on the bank of the Ottawa River, it was good that things were, for the most part, back to normal.
Ben Cape, of Waukee, Iowa, ran 26.2 miles from downtown Ottawa through Starved Rock State Park and returned in 2:59:41.5 seconds Saturday to claim the Starved Rock Country Marathon all-around championship.
"I was interested in hills and trying to run a challenge [marathon] This spring," Kip said. "I have four children [children] Here, they wanted to visit the water park. So we are staying at the Grand Pier Resort. They swim and I run. …
"[The course] It was beautiful along the way, great views of the water, trees, tons of scenery, and really challenging with the hills. … It really is a great course and a lot of fun."
Angie Lambi, of Dexter, Michigan — like Kip, who debuted at the SRC Marathon — placed fifth overall and first among the women in 3:33:01.
"I was looking for a race that would allow me to qualify for it [the] Boston [Marathon] Lampi said. "My long runs have been fast lately…so I signed up at the last minute, and I'm glad I did."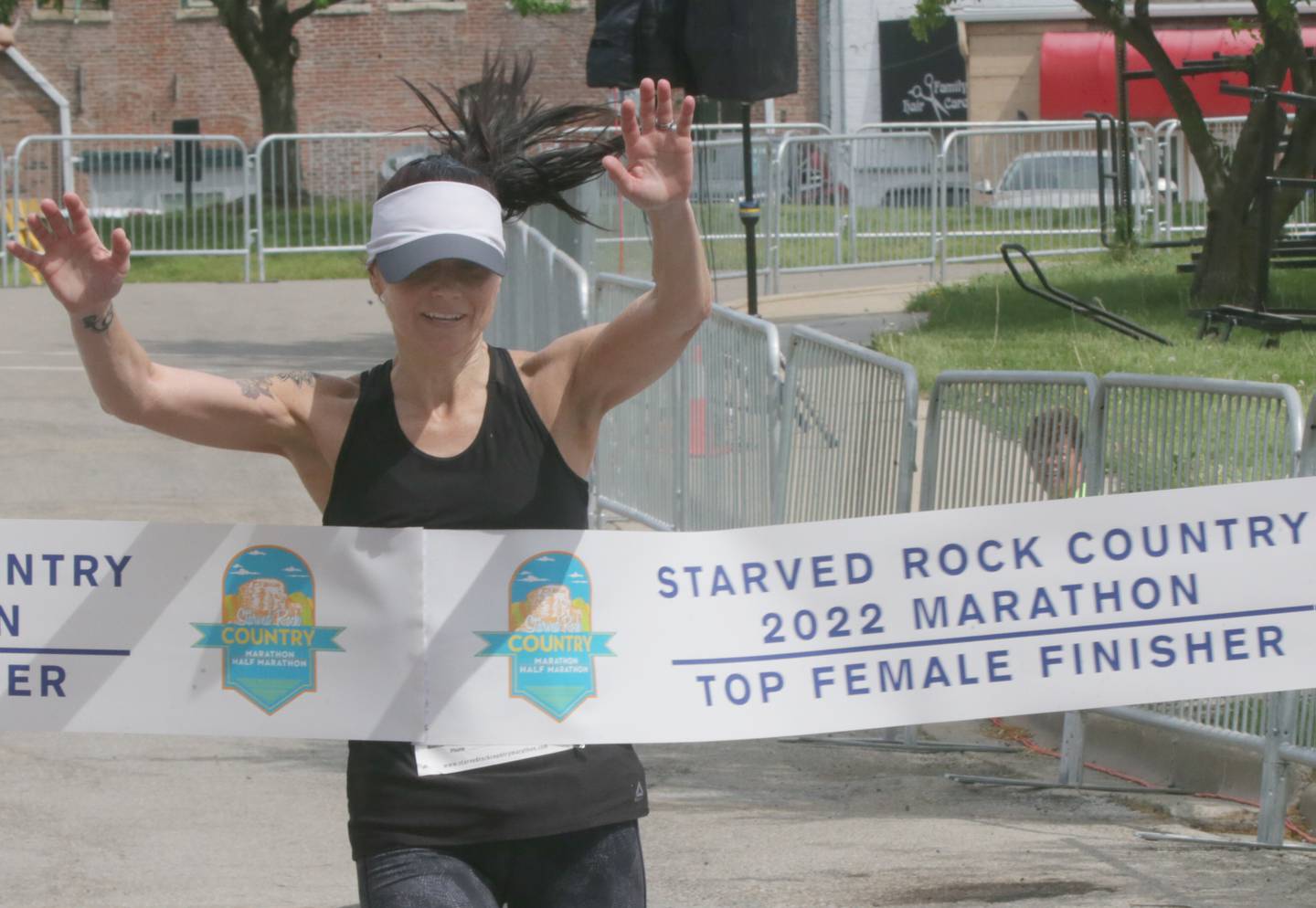 There was more than 15 minutes of waiting between the end of Kipp and the end of the next full marathon, Justin Seno (3:15:01.5), of Champaign, Ill. However, Seno wasn't a bit upset about his ending.
"They canceled the Champagne marathon, I was already about six weeks in training, and I found this marathon," said Seno, who was running his first marathon. "So I just extended my training and came here to do it.
"It was a great course, great volunteers, my family came out to support me. It was so much fun."
The wait between Lampe and second-place finisher, Lana Lazaridis (3:34:18.9), of Schaumburg, Illinois, was much shorter.
"I had a really good first run, but then it kind of blew up a bit," Lazaridis said. "But it was still great, the beautiful views and everything."
The top ten behind Kip and Seneo in the order included Jeremiah Gibbons (3:19:15.4), Kyle Swift (3:26:45.5), Lambi, Lazaridis, seventh place, Ricardo Bosio (3:42:39.5), Samantha Fassel (3:44). :38.7), Shelley Gore (3:45:53.2) and Jeffrey Voss (3:48:07.2).
From there, the other competitors came in under 4 hours, 30 minutes in the following order: Brian Isarko, Owen Miller, Scott Gerets, Jimmy Raffelson, Jonathon Hoffmeister, Andy Felixiak, Stephen Holcombe, Kelly Booker, Luke Giamproni, Brooke Stanbury and Camden Dodge and Ryan Boggiano, Nathan Campbell, Paul O'Neill, Michael Driscoll and Nicholas Orr.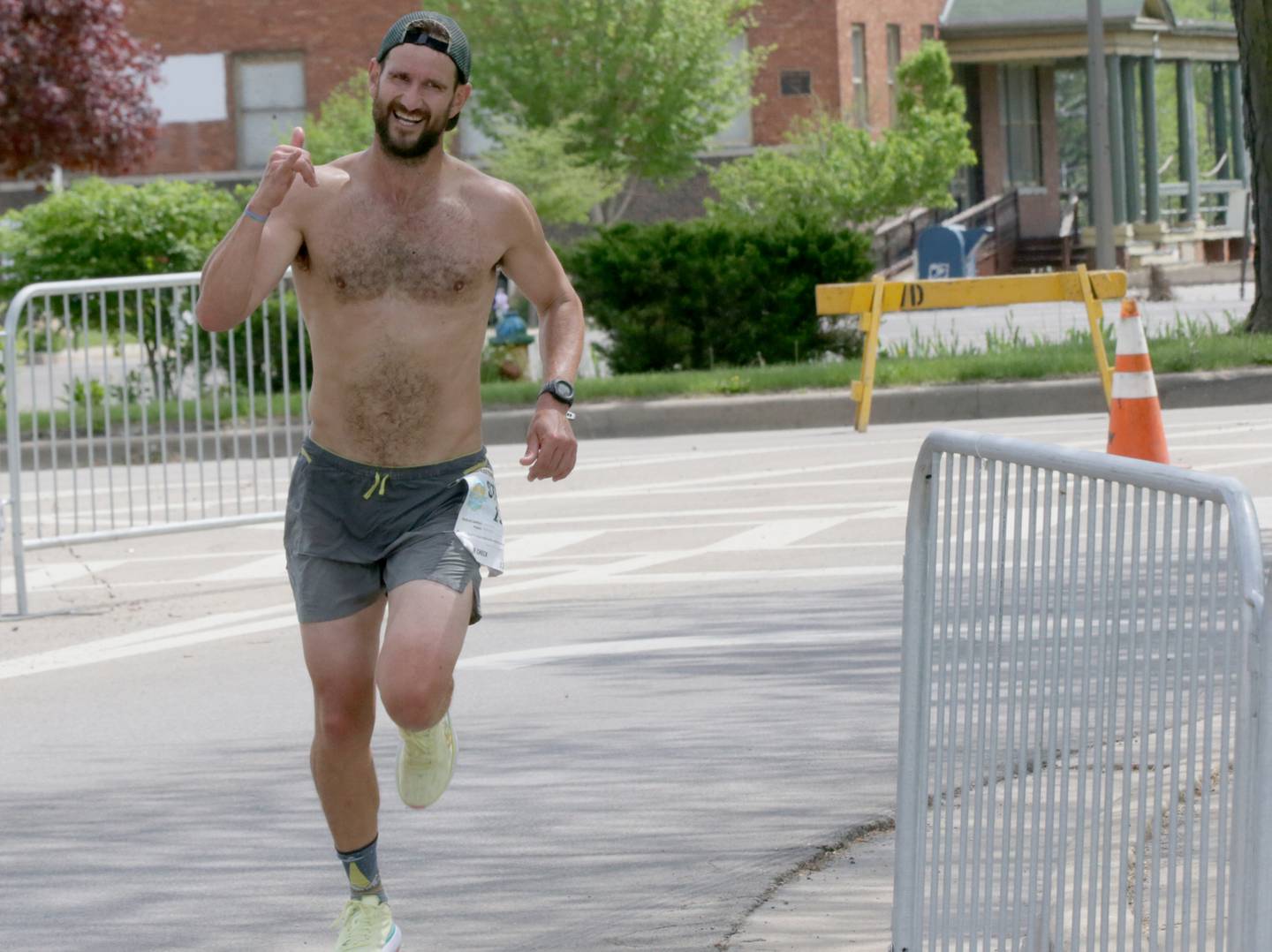 Prior to a two-year hiatus due to efforts to contain COVID-19, the Starved Rock Country Marathon had been run annually since 2014.
A full list of times and times can be found at racingexpectations.com.
In today's other races:
• Jordan Rick in Setonville (1:27:32.9) won the Starved Rock Country Half Marathon overall title. The next two winners were locals – race runner-up Abby Fisher (1:34:55.8), from Ottawa, and best finalist Kim Foster (1:35:31.6), also from Ottawa.
Other area competitors who placed 25th in the SRC Half Marathon include Tonica's Troy Johnson (6, 1:39:38.4), Ottawa Don Kiesig Jr (7, 1:41:16.6), Oglesby's Juan Leg (8, 1): 41:22.6), Sean Manley from Ottawa (9, 1:42:20.8), Spring Valley's Ashley Spanos (18, 1:47:44.3) and David Schmidt from Peru (21, 1:49:23.4).
• Plainfield's Tristian Benes (19:58.3) took first place to win the Run Starved Rock Country 5K, with four locals – Lucas Faraboe of Ottawa (20:27.7), Chad Kovac (20:50.0) for Marseille, Joe Burnac (21: 21:) 46.5) and Blake Baker from Ottawa (22:04.7) – rounding off the top five.
Princeton's Lauren Widmer (24:48.1), Princeton's Abe Vladika (24:49.9) and Princeton's Charlene Hamann (25:45.9) were the women's top three in fifth.