The summer travel season is in full swing, as millions of travelers take to the roads and skies this Memorial Day weekend.
During the holiday, 2.1 million passengers a day are expected to pass through security checkpoints at airports across the country, according to the Transportation Security Administration (TSA). The TSA said the scale could exceed pre-pandemic levels.
"Travelers should expect airports to be very busy," said Robert Spinden, TSA's director of federal security, in an interview with ABC News. "But we are ready."
To meet the demand, Spinden said his agency has increased the use of overtime and is allowing part-time officers to switch to full-time work. He said the agency is also "aggressively" recruiting new officers in preparation for a summer rush of travel.
Airlines are also preparing for a busy weekend of travel. United Airlines expects an average of 4,000 flights per day over the weekend, American Airlines says it will average 5,700 flights per day, and Delta plans 4,500 flights per day.
"We've been waiting for this moment this weekend for two years," Alison Abend, chief customer experience officer and executive vice president at Delta, said in an interview with ABC News. "It's the start of the summer season, but for the people of the Delta, it's really back to our nature."
The airline expects to fly nearly 2.5 million customers between Thursday and Monday — a 25% increase from last year. Husband said domestic leisure travel has fully recovered from the lowest levels of the pandemic, and transatlantic travel continues to improve. The airline will serve 275 destinations over the weekend.
"In many ways, this is just kind of a dry run of summer because you're expecting more passengers then?" asked ABC News transportation reporter Geo Benitez.
"It's a dry period, but we want the dry run to be great this weekend because that will tell us, OK, how the rest of the summer is going," Husband said.
With demand continuing to increase from the lowest levels of the pandemic, airlines have had to adjust their schedules. Bad weather in April compounded the problem by forcing airlines to cancel thousands of flights amid the boom.
The ongoing shortage of pilots has also had an impact on operations. Bad weather in April compounded the problem by forcing airlines to cancel thousands of flights amid the boom.
"We never want to cancel a trip. I hope our customers know it's the last resort we take. Honestly, this is bad for our customers and bad for our people. We have built a lot of trust and confidence in being number one from a reliability perspective," Husband said. Thus even one cancels. I don't feel well."
The airline said it would notify customers of the changes "as early as possible".
To prevent travel disruptions, Delta announced Thursday that it plans to cut 100 flights per day from its schedule between July 1 and August 7. [its] system and improve operational reliability of [its] clients and employees; We will continue to proactively adjust scheduled flights in the coming weeks."
New technology gets tested over the weekend
During the pandemic, airlines have implemented new technology aimed at making the travel experience faster and hands-free.
Last year, Delta launched the Digital ID feature – the first of its kind pilot program that will implement facial recognition technology at specific airports across the country. Husband said the show "will keep growing all the time [their] network."
"We want it to be easy for the customer — no touch, no hands," Husband said.
And in the security aisle—the Transportation Security Administration has over the past few years begun deploying X-ray computed tomography systems at airports across the country. Scanners use "advanced algorithms" to detect weapons, explosives and other prohibited items by creating 3D images of mobile items.
"This not only enhances our security effectiveness, but also provides efficiencies for occupants by allowing them to keep more items on their property than they previously could," Spenden said.
"[The pandemic] It gave us the opportunity at Delta to say, let's take a blank sheet of paper and reimagine the customer experience on board," Azed said.
No need for masks to travel
With the lifting of the federal mask mandate, airlines no longer require passengers to wear a face covering on flights. Most airports across the country have also eliminated this requirement, although some have kept it in place in accordance with local laws.
For those who might be concerned, Husband said, "It will be busy with traffic, but know that it is absolutely safe. If you want to wear your own mask on the plane, you can wear your own on the plane."
Airlines have promoted improved cleaning protocols since the start of the pandemic. Husband said things like cleaning between flights and hand sanitizer on planes are there to stay in Delta.
"The pandemic has given us an opportunity to rethink how we clean our planes. The standards of care we have implemented are still in place," the husband said.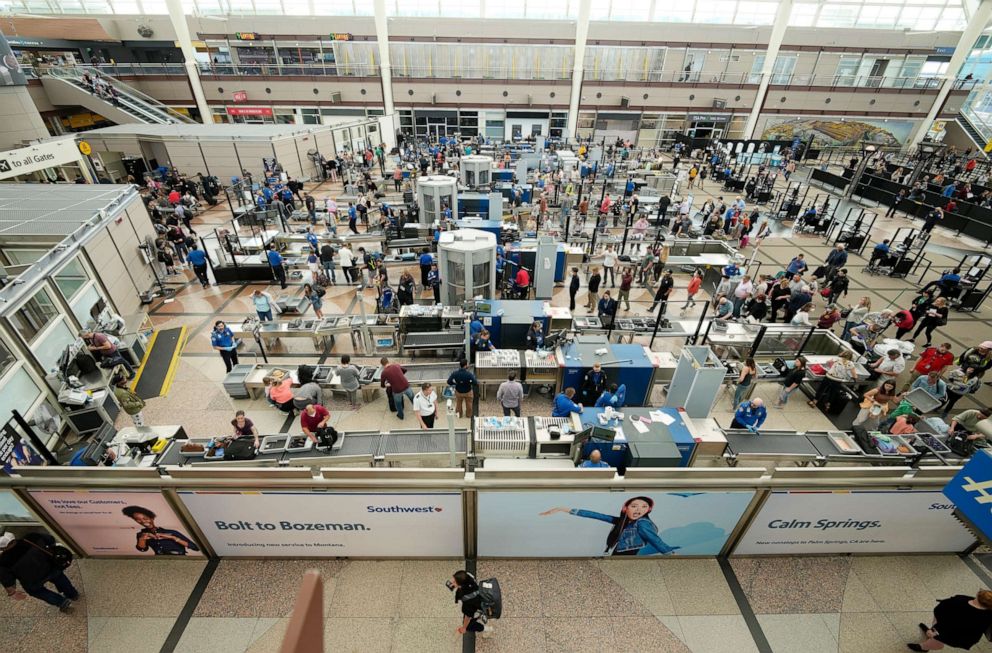 Get ready for the travel rush
For those planning to travel this weekend, experts recommend arriving at the airport early and making sure their carry-on luggage is properly packed with no prohibited items on board.
"There will be a lot of travelers, so expect long lines, and expect it to take a while to check your bag or go through security," Scott Keys, founder of ride-hailing subscription service Scott's Cheap Flights, said. "If you have a TSA PreCheck or Clear or something like that, you should definitely take advantage of it this weekend because otherwise it could be a long wait to get to your flight."
The busiest airports this weekend will be Atlanta's Hartsfield-Jackson International Airport, Los Angeles International Airport and Dallas-Fort Worth International Airport, according to Huber, an online travel booking platform.
"We've had two years of pent-up vacations that we didn't have to take," Jane McNeely, a flight attendant for Delta Air Lines, told ABC. "But we're ready. We're excited and let's get started."