Learning how to code and perfecting his coding skills outside of the classroom led Sam Hooper to serve his community as a leader, role model, educator, and educational software developer, all while in high school.
The 18-year-old TAG teacher teaches programming to his classmates, developed an app that helps 3rd-8th graders review math concepts, became a famous programmer, and took first place in the UIL state championship for two years in a row.
"I learned a bunch of things that I wanted to learn and I also taught a good portion of the class," Sam said. "I think if I hadn't been into this program, I would have never known computer science and I would have never known that this was something I really wanted to do."
Last year, the TAG Computer Science (CS) club, which Sam heads as president, got the highest scores in the programming session (team part of the competition) – and Sam got the highest scores on the written test (individual part) – during the 2021 UIL CS State Meet . The team qualified for the state competition again this year and sent four reps to compete at the University of Texas at Austin on May 7. Once again, the TAG CS club took the gold by winning first place in the programming session and Sam winning first place in the written test. This year, TAG students Dat Tran and Vedant Tapiavala tied for a place on the written test portion.
"The individual competition exams were written and checked by professionals, and Sam found an error in this year's exam," said Travis Burton, TAG CS Instructor and Club Coach. While checking, Sam found a question that he was convinced was right. He went to make his case, pulled out a multipage document of the Java specification and found two sentences in everything that proved he was right. The contest administrators made the correction and said they were impressed, not because he was able to point out the error, But because he handled the situation politely and respectfully."
Passion for sharing knowledge
Since March, Sam has been at the teaching agency Gideon Math and Reading in Garland, helping high school students with algebra, geometry, and calculus. When he's not working or studying, he prepares computer science lessons to share with fellow TAG CS Club members. Nearly a dozen students meet every Tuesday in the classroom at Burton, where Sam leads a class regularly to teach his peers new concepts and practice programming skills that may serve them during UIL competitions.
"I usually mentor the team, but sometimes I get pulled out of the business for different things. When that happens, I ask the students to review certain topics and have them teach each other," Burton said. "What Sam wanted to do was teach everything. Because he was the state champion, I gave him a chance. He came up with really good lesson plans and presentations, he came up with some really cool hacker classification problems for students to do, and he kept them engaged and taught them useful things."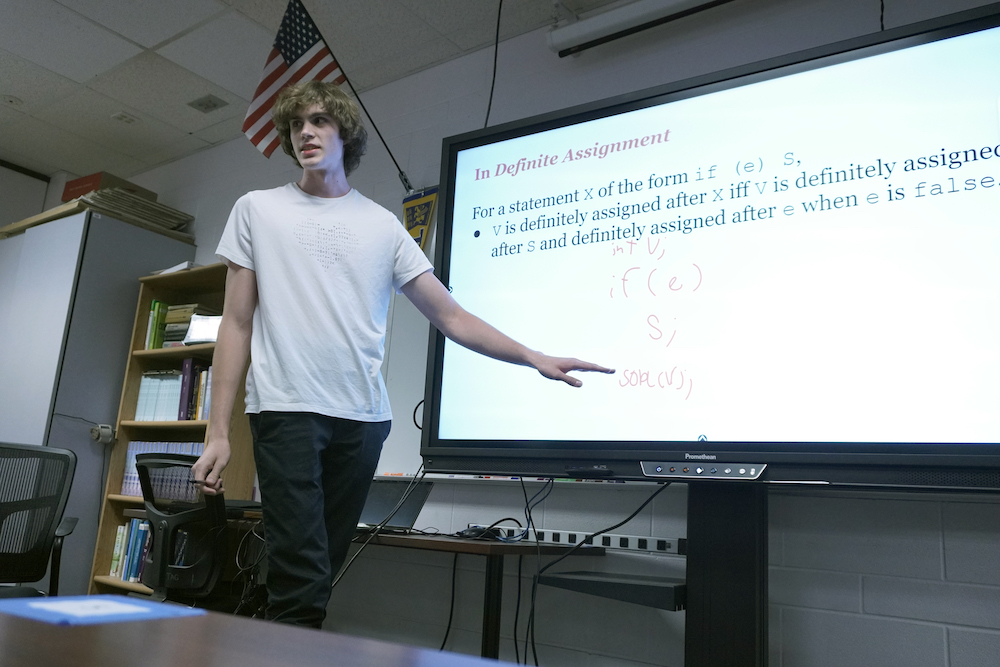 Among the CS categories offered by TAG are Pre-AP, AP CS, Data Structures, Independent Study, Game Programming, and Data Electronics. Required for every ninth grade TAG student, the CS Pre-AP class ignited a passion for Sam that pushed him beyond learning how to write complex code.
Soon after attending the introductory course, Sam started learning programming on his own time. As a novice, he coded his first two personal programs: his own version of the Minesweeper app and a customizable chess program. As a senior, he and colleague Ayoge Verma developed the Math Skills Trainer app, which was ranked #1 in the Texas 30 Congressional District in 2021 Congress App Challenge.
Ayuj and Sam's app, called Relearn, generates random math problems from 30 different topics of 3rd to 8th grade level of difficulty, such as basic addition, adding fractions, unit conversions, mixed numbers, decimal numbers, order of operations, and more. Designed to help students easily practice math, the app provides customization for the topics the student wants to work on and provides insights into student performance.
"I would like to be a software developer in the future and I would like to program for a big technology company," Sam said. "Working on Relearn, I realized that the possibilities are endless and that one day I could make a program that could help people learn new things or help people study and practice."
In the fall of 2022, Sam will enroll at the University of Texas at Austin, where he has been accepted into the Turing Distinguished Undergraduate Scholars Program in Computer Science.