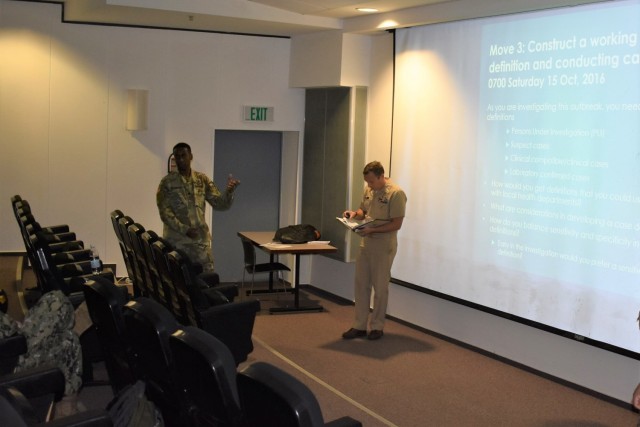 RAMSTEIN AIR FORCE BASE, Germany — Members of the Army Public Health Command Europe strengthened their partnership with related services in the Defense Health Agency, led by public health emergency management training held at Ramstein Air Force Base from 24 to October 28.
The five-day training consisted of 40 active duty and civilian participants from the US Air Force, US Army and US Navy from across the European theater.
"This is the first time the training has been conducted overseas," said U.S. Air Force Lt. Col. Mark Lehman, a U.S. Air Force Command public health officer and health promotion consultant for the U.S. Air Force Command Surgeon's Office in Europe – Air Force Africa. "It's a Department of Defense requirement, and we had some people who weren't trained because of the pandemic and travel restrictions that we were able to get instructors from the Defense Medical Readiness Training Institute, based in San Antonio, Texas, to come out and train here.
According to Lehman, the course is usually only for EMTs and EMTs, but they were able to open it up to more people because it's local.
"We have participants from all over Europe on this course, it's a great chance for them to meet each other for the first time," Lehmann said. "Here in the Kaiserslautern military community, we have services in multiple locations. Bringing everyone together in this course is a springboard for building partnerships and leveraging each other's opportunities and strengths."
Military medical professionals had the opportunity to train together and share expertise and best practices regarding mitigation, coordination and communication efforts in public health emergencies.
"I really enjoyed the training this week," said U.S. Army PHCE Bioassay Division Chief Junia Jean-Gilles Beaubrun. "It was great to meet other like-minded subject matter experts and talk about something we're all passionate about."
Beaubrun, added that the training was very valuable and motivating.
"I wouldn't say we're neglected, but consulting and looking at LS capabilities is certainly not the first thought in most public health responses," added Sharlanda Khosravi, deputy chief of the US Army PHCE's bioanalysis division. "This is especially true with the recent COVID pandemic, where we have shown and proven that we deserve a seat at the table."
According to senior Army public health officials, PHCE's LS has implemented a common method of testing for COVID-19 and has processed more than 200,000 COVID-19 samples, which mitigates the risk of the spread of COVID-19 in military communities in Europe. Africa and the Middle East.
After discussing broad topics such as PHEM in DOD, emerging infectious diseases and threats, the training session concluded with a one-day practical exercise.
According to event organizers, the entire group was divided into teams as they worked through various public health emergency scenarios.
"The purpose of the vignettes is to provide real-world scenarios that demonstrate the complexities of an epidemic or public health emergency," said US Army Lt. Col. William Washington, director of the Health and Human Services Division at Public Health Command Europe .
According to Washington, preparedness and training are critical to rapid and effective implementation.
"The exercise highlights the various different organizations that may need to work together to manage an emergency and the importance of developing and maintaining important inter-organizational relationships in public health."