An every day cruise line doesn't launch four ships at the same time on the same river, but that's what Viking Cruises did earlier this spring. Viking Fjorgyn, Viking Kari, Viking Radgrid and Viking Skaga joined the fleet to sail the Seine and Rhone routes to visit the wonderful ports of Normandy, central and southern France.
I joined the naming party in Paris and was invited to set sail on a four-day mini-cruise aboard Radgrid to sample some of what passengers can expect when sailing aboard these newest river ships in France. Typical sailings would be longer, often traveling all the way to Normandy or further south in France, but this cruise was about celebrating the Quaternary of New Buildings (four more would sail from Amsterdam and were christened on the same day).
Frequent Viking travelers may wonder what sets these new ships apart from the rest of the Vikings' main European river fleet. Answer: Not much. While the ships are 33 feet shorter and have 11 fewer cabins than other ships, they are barely noticeable. However, there is a good reason for that. Viking was able to use Port de Grenelle, a port close to the Eiffel Tower. Most other river cruise lines dock far, giving Viking a scenic edge within the city without the need for a long shuttle bus ride.
With more than 80 river vessels, Viking knows a thing or two about negotiating a good docking site, and it took years for the company to reach this much-desired port.
Although I didn't take advantage of the new line's three-night extension after sailing in Paris (it didn't start until next year), I loved being able to walk to and from the ship to explore the French capital at any hour with ease. Having lived there for years, it was great to walk around my favorite neighborhoods, due to the docking in downtown.
Spacious and comfortable seating on the Radgrid Hotel's sun deck. Image source: Courtesy of Viking
Later this year, Viking will introduce a seven-night Christmas Eve on their Seine cruise itinerary to visit various Christmas markets that are sure to be fun for the crowd.
Notable places to visit on most Seine sailings include the beaches of Normandy, Rouen (known for their Gothic architecture), Vernon (near Monet's famous Giverny Gardens), and the old town of Le Becque.
What really makes the experience special, however, is the French touches on board. One evening, a well-known cheese shop owner came on board the ship with the finest rare cheeses for the passengers to taste. As someone who loves cheese, it was exceptional. Tasting the same cheese in a restaurant or shop would have certainly cost around $100.
The onboard menu was distinctly French as well, with dishes like beef bourguignon and French onion soup, two of my favourites. The most delicate croissants and the painstaking chocolate were as authentic as what you'd find on the floor, and the mini baguettes served in the dining room were equally delicious (so much that I crept into tasting the cheese).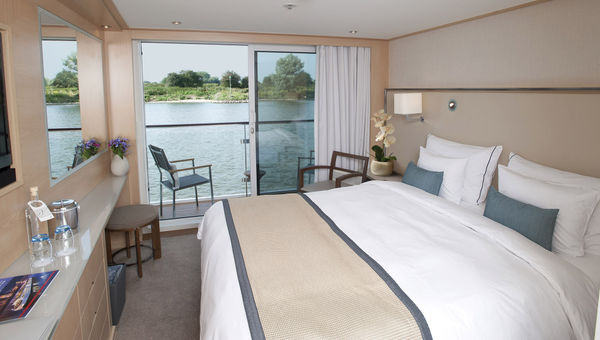 A room on the Viking Radgrid. Image source: Courtesy of Viking
As I sailed, the tour led us to Giverny from Port Vernon through charming old town – cats chase us from atop flower-lined stone walls and locals ride bicycles with baguettes in their baskets (as if outside the central casting) – to Monet's home and gardens.
On the Rhone River cruises, one of the trips includes strolling the vineyards of the hometown of Syria. One thing Viking does well is create tours for different physical abilities, showing tours that involve a lot of walking or strenuous activity. The cruise line also deserves a reputation for always offering a free tour of every port, which adds tremendous value.
Besides those free tours, most everything is included on board: house wine, beer, and spirits; Soft drinks; and room service. The only pluses are the premium drinks and some specialty tours.
Most of the customers on board were American and British travelers with some other nationalities.
Attracting younger cruisers
As the Viking customer base is starting to skew a bit, they're making some changes on board that attract a wider demographic, including several active excursions and the option of cycling along the river. This is also a great way to encourage more multigenerational travel.
Stylish and contemporary Scandinavian design suits all ages. The designers have thought of everything, from coffee cups and saucers (all from Nordic producers) to the small library, stocked with books handpicked by a prominent bookseller.
As I sipped a cup of roses from the outside deck in the stern of the ship, watching the French countryside pass, I remembered why I am so fond of sailing the river. You are close to an ever-changing panorama, whether between destinations or right in the heart of Paris. Let's just say she removed my socks (and hood).