Rock Falls – Oregon ice pitcher Mia Trumbull has delivered in big games all season. At the Class 2A Rock Falls Regional Championships Friday night against Rock Falls, she put in another impressive performance, throwing a one-stroke by eight strokes and not walking into a 6-0 win.
"It feels great," Trumbull said of the progress to the sectors. "Honestly, I didn't think we'd get this far."
"Everyone is so happy, and our team is like family," said Riley Sutter of Oregon. "All of our hard work pays off, and it's nice to go forward. Moving on to the sections, we're confident and closed. Our mental game is in place, and I can't wait."
The first four rounds of the Big Northern Conference were a duel of bowlers, with Katie Thatcher and Trumbull going back and forth, ending the innings at three or four rackets.
The Hawks (25-9) started to build momentum at the top of the second, and had one run on the board after Trampel's lead single and RBI's Lena Trampel solos.
"I think it was a relief to be the first to score in the match," Sutter said. "It boosted our confidence, and we just wanted to get more and more runs. Anything can happen, so the more runs, the better. Their defense made it difficult. They have a strong defense."
Trampel worked 1-2-3 in all but the fifth round, and the Oregon defense played soundly behind her, taking several fly balls to finish innings early and stay in control of the game throughout. Rock Falls only got to base twice and never got ahead of the second.
At the top of fourth, Mia Trumbull overtook her halfway home, putting the Hawks in a 2-0 lead.
"When I hit the ball, I felt like nothing. It just felt like it was gone," Trumbull said. "I was about to touch first base when I saw a fan holding it through the fence."
Oregon seized strong control of the match at the top of fifth, hitting four runs in five strokes to advance 6-0.
Gracen Pitts led the run alone between short and third, then took second on the field and reached third on the Sutter bunt. Bella Kuertner jumped one beside her to load the bases, and Liz Moyes skipped one off the floor, then off Thatcher's gauntlet, to bring the Bates for a 3-0 advantage.
Sutter came home on the third hit on the next hit, slapping Jesse Sutter twice in the last second to score for Quartner and Moe.
"It was very comfortable because there is a lot of pressure to do a good throw when I'm on the hill," Trumble said of the fifth of four runs. "And it was an insane amount of energy throughout the entire game."
At the bottom of fifth, Zoe Morgan of Rock Falls held just a second, but the Hawks' defense turned in three quick strokes to finish the inning.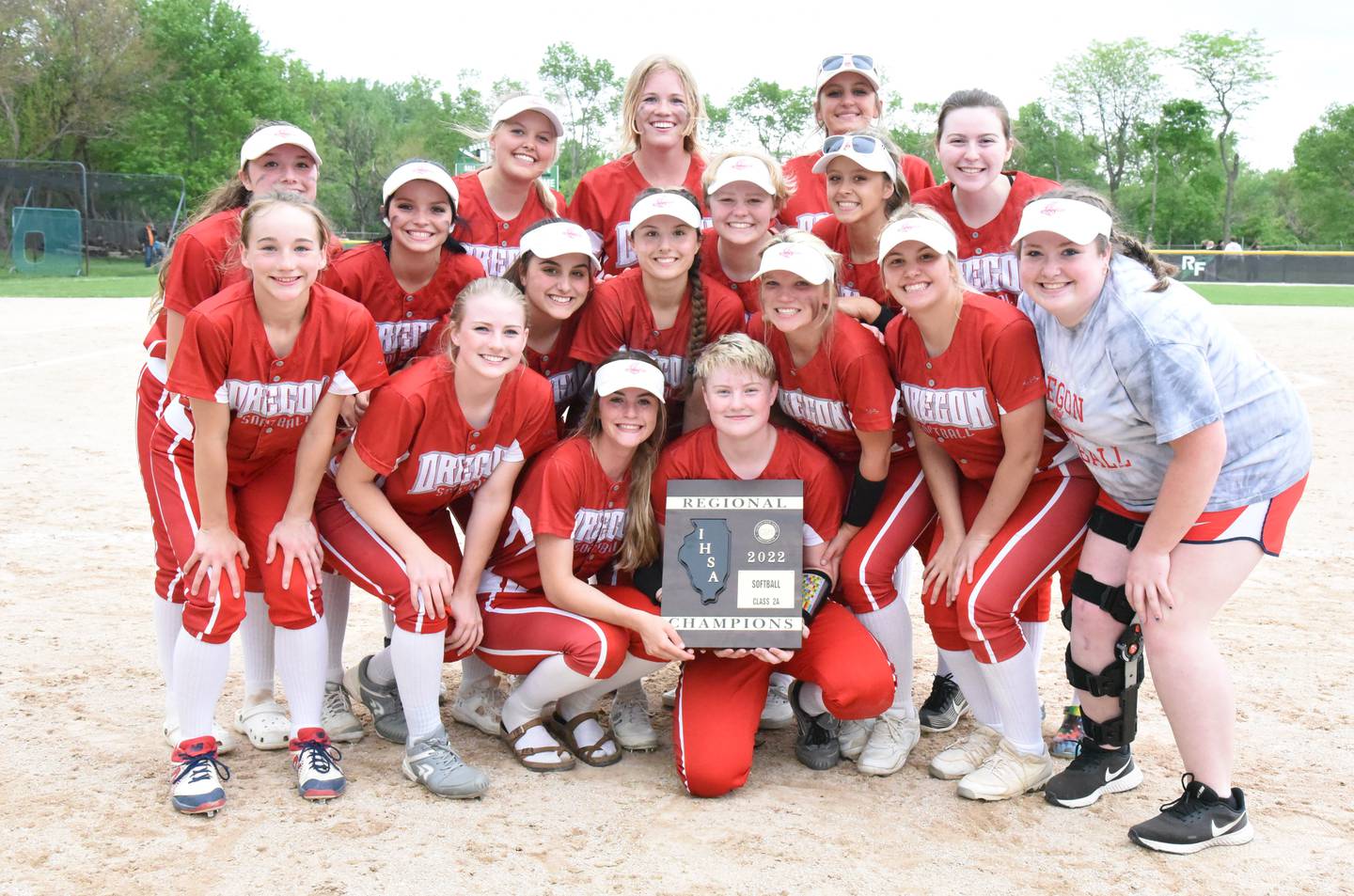 "Mia's show was amazing. I love how she never drops the batter, she brings it up every single time," said Riley Sutter. "She never goes down and is always focused on the next pitch. Her hits make our team a lot of noise and make us feel good. It's really amazing."
Riley Sutter went 3 vs. 4, Mia Trumbull went 2 vs. 4 with a singles race, and Jesse Sutter went 2 vs. 4 with a single to lead the Oregon hitters.
Morgan went 1 for 3 to lead Rock Falls into the board.
Thatcher lost a full game, scattered 12 hits, conceded six runs, six hits and dreaded walking.
"I don't think we were really there. We weren't ready," Thatcher said. "The defense wasn't really there. I don't think we were ready for the ball when it was hit for us. We didn't make the right decisions on some of the plays, so I think the outcome should have been a lot different if we had our heads in it."
"It was tough for us. They came to play. They played hard," said Rock Falls coach Steve Giddings. "I don't know if we were overconfident. We got some really good hits right in the people, and we couldn't move on with anything. Katie made a great match. The bowler made a great game as well. They just attacked the ball. They just attacked Katie. I think that was their big key."
Both Thatcher and Giddings know that losing in the regional final doesn't take anything away from the strong season the young Rockets (21-12) have had together.
"Because this is my first season in high school, I thought it went really well. I think we did better," Thatcher, who missed the whole last season after knee surgery, said. We could, but it wasn't the result we wanted."
"I thought our girls played very well this season, and I'm happy to have them all back next year," Giddings said. "They're all coming back, so I think we'll be good next year."
Oregon will face Richmond Burton on Tuesday, May 24 at 4:30 p.m. in Game 1 of the Richmond Burton Sectional. Stillman Valley plays Marengo on Wednesday, May 25. Split Championship Match on Friday, May 27 at 4:30 p.m.
The Temont Sectional winner will play Richmond Burton Sectional at the East Peoria Super-Sectional on Monday, May 30 at 11 a.m., and the winner of that match will play June 3 in Peoria for the state championship semifinals.