WThe Hen Jan Racine Books Britannicus In 1669, he was governed by the classic French idea that required a play to take place in real time, in one place, during one day. But to the modern audience, and even with the re-susceptible Timberlake Wertenbaker as a translator and converter, Britannicus It proves to be a constant drama and not one that unfolds clearly. Wertenbaker has shortened the text, but he is still necessarily engrossed in muddled interpretations that impede progress. Director Atari Banerjee does his best to tackle all challenges boldly, but to the end the work is so minimal that when Nero passes two-thirds of the way, and relieves his feelings by tapping the water cooler in the office, it's a high point. At worst, the experience of watching the play is like driving with the handbrake on.
Britannicus It is truly the story of Nero: A Day in the Life of a Tyrant. And there are some great performances here: William Robinson is superbly portrayed as the Roman emperor – he walks around in white tracksuits, bare feet, as if on a casual energy voyage. He has a way of illuminating others for laughter to support his tendency to control, and given the sobriety elsewhere, you are grateful for the calculated entertainment this provides. The play centers on Nero's relationship with his domineering mother, Agrippina. Sirene Saba powerfully conveys her sense of neglect by her son (Racine's maternal play contrasts intriguingly with another Roman pair: Shakespeare's Coriolanus and Voluminia).
Britannicus' role is minor, but Nathaniel Curtis (recently honored in a Channel 4 drama series) It's a sin) brings to Nero's adopted brother the charm of a gentle giant and proves his candid frankness. Chiffon Ahmed is adorable as Junya, a burgundy taffeta little character who was recently kidnapped by Nero. In front of her audience with her beloved Britannicos, she exclaims: "I want it save You," and both feet leave the ground as she leaps to try to equal the height of her lover. Through her desperation, Ahmed has brought into the production a much-needed emotional hub.
The Rosanna Vize collection is oddly whimsical, with details by Paul Rubens Romulus and Remus Being sucked by the wolf as a cute backdrop – and the actual stuffed wolf leans on the stage the whole time. The last funeral wedding scene is impressive. Instead of confetti, ashes fall steadily in front of one name written in black: NERO.
At the Park Theater, another name, in red, hangs above the stage: TONY! It's a fitting moment to reflect on what makes disastrous prime minister, comedian Harry Hill, and composer Steve Brown. Tony! (Tony Blair rock opera) It is a new, new multi-tasking musical, directed by Peter Rowe. The set (designer Libby Watson) is in New Labor colors and the staff wears black suits and crimson ties. Charlie Baker played Blair with an attractive smile and a sad smile. What makes his performance laughably hilarious is that he presents Blair as an idiot and not without self-doubt – a wannabe rock star who's wobbling about obsessively with Mick Jagger (whom he frequently misidentifies as Jaggers). Sherry (Holly Sumpton) is a prostitute whose tone is visibly afraid.
Don't expect rigorous political analysis here as Blair's decade in power has waned – and brace yourself for weapons of mass destruction that double as easy gags. But Hill is headed for something, as this simple exchange reveals: Tony: "People are like me, Gordon." Gordon: "That's because they don't know you." Gary Trainor is the go-to for Gordon Brown, singing about macroeconomics. Howard Samuels is gorgeously slippery and campy as Peter Mandelson, Rosie Strobel is Osama bin Laden and Madison Swann is a fun stoic Princess Diana ("There were three of us in our marriage, seven if you count all the men I've gone down with"). Steve Brown's music is scrumptious and mixed, from Sondheim to ragtime – and the ultimate number, The Whole World Is Run By Assholes, is impressively cool.
With a ghost in the near future, there can be no doubt as to who is to blame when suddenly the lighting device proves unsafe, as happened the night I saw Mark Ravenhill's new short and wonderfully written play haunting susan a. The artistic hurdle at King's Head, where Ravenhill is co-artistic director, meant the two-person show ran late, under the unpleasant glare of the classroom. Ravenhill, who appears in the show, tried to make up for this with the help of a mobile phone whenever he plunged into darkness. But these problems were hardly indicative of what turned out to be the story of a place: a delicate chase within a pub theater that was once fun to learn, a private fight club.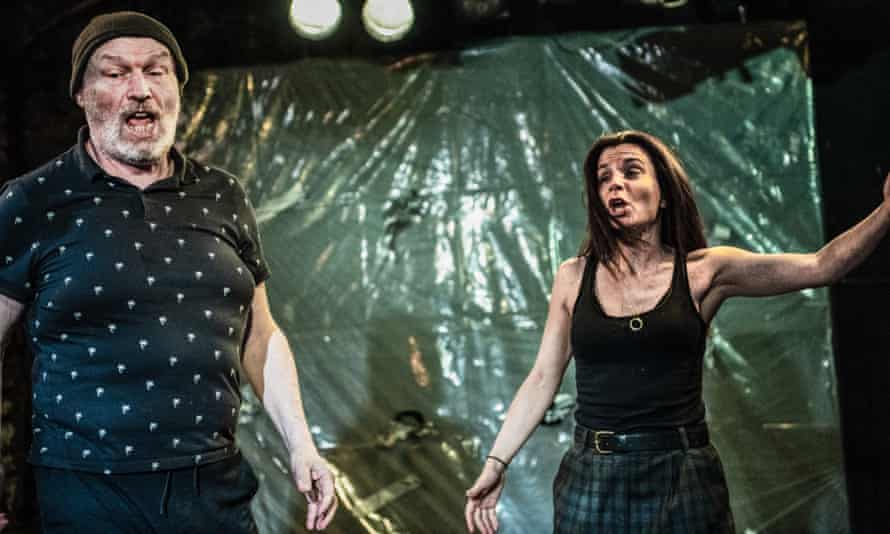 The feel of the production, co-directed by Iman Qureshi, is premeditated improvisation, and thoughtful spontaneity, as Suzanne Ahmed pretends (not quite convincingly) to be a random, protesting cast member and grabs the reins of Ravenhill's novel and goes on to tell, with great urgency, the tale of a Victorian mother-click On the shoulders of actresses, trying to ask for help that she was doomed to never get. It's the most satisfying cooler – which makes an impact, too – and it's worth setting aside an hour to see it.
Star ratings (out of five)
Britannicus ★★
Tony! (Tony Blair rock opera) ★★★★
haunting susan a ★★★