"Just do it, and if you get scared, do it anyway." When I first heard this phrase, it struck a chord because it is exactly what I felt when I embarked on my first trip on my own: frightened, uncertain and questioning my ability to solve the kind of problems that might arise far from home. In addition to my personal concerns, I had to deal with the warnings of friends and acquaintances, such as: "Don't travel alone, it's risky!" I don't blame them. Stereotypes, the gender gap and challenges faced by women in particular in some countries reinforce this misconception, to the point where we can be tempted to limit what we do and where we go.
But women have been traveling alone since time immemorial, and adversity has always been a constant. Despite the challenges faced by women traveling alone, there is no shortage of us. According to Statista, an international statistics platform, 70% of travelers around the world are women, and according to research by Booking.com, 62% of Latin American women have made at least one international trip alone.
It was my first adventure in Mexico. Years later, I've traveled through the rest of the Americas as well as Europe, Africa, Asia, and the Caribbean, all of which have allowed me to piece together helpful advice for other women wanting to embark on similar solo adventures.
Choose your destination
What do you imagine your first trip alone would consist of? Will it involve walking in the woods, wandering an ancient city, or discovering a new culture? Give it some thought and evaluate the feasibility of doing it, based on your budget, the time you have and your experience. If you are for the first time, start traveling locally or visit countries where you feel comfortable with the language and culture.
Ampersand Travel, an agency specializing in luxury excursions in Asia and Africa, has launched the Wander Women's 2020 Global Guide, which has listed the best destinations for solo female travelers based on items such as facilities, safety, and women's rights. According to this indicator, the six safest countries, in order, are: New Zealand, the Netherlands, France, the United Kingdom, Switzerland and Canada.
information is power
I think knowledge helps protect me. I spend a lot of time planning and figuring out the best places to stay, what the culture is and how complicated the transportation system is.
Accommodation is the key
When it comes to accommodation, I look for options that are centrally located and close to subway stations. My rule is to read the reviews of other travelers. There are many search engines, but among the ones I use the most are Booking.com, Hotels.com, Expedia, Airbnb – in case the host is in the same place, I prefer it to be a woman and check her rating.
keep safe
One of my golden rules is to be as safe as I am in my city. Here are some of my primary considerations: I never walk alone at night, I don't sleep on any transportation, and whenever I meet someone on my trip, I stay in public and don't usually tell them where I'm staying. I also keep my money in more than one place and keep my family informed of my activities while sharing my real-time location with one of my contacts. Just in case, I attach a whistle to the zipper of my backpack and keep it handy to blow off in case of an emergency. If I want to go out at night, I plan how to get back to my dorm, try not to carry a bag and watch my drinks. Finally, I trust my intuition if it tells me it's better to back off, take action, or leave.
Take advantage of technology
Having the internet when traveling alone is a must. What works best for me is to buy a sim card from a local company in the country or continent I'm visiting. Even though my original number is Mexican, I still keep my WhatsApp contacts. Another option is to buy international cards or search for a WiFi hotspot. The apps are useful, too. I use Google Translator, Google Find My Device, and Surfshark VPN (a virtual private network where I can securely connect to public WiFi, preventing my data from being stolen).
Get insurance
Obtaining travel insurance is a responsible and preventative measure. There are companies that offer travel assistance, which is a more complete service than international medical insurance.
Register to get experiences
I found that signing up for travel experiences was the best way to make friends. I've met people in many countries, but I fondly remember Maria, a Spanish woman who became a great ally after we met on a kayaking trip in Ecuador, and the group of friends I made in Colombia after taking folk music lessons in Vallenato.
travel light
A fill light has many advantages: it gives you more movement, prevents you from getting tired and distracted, and saves you time. If you are trying to choose between a backpack or a travel bag, I have to say that I feel more comfortable with the backpack because it is more practical when walking and taking public transport, although this is a matter of taste. Mine has a capacity of 50 liters, it has a lot of compartments and padded shoulder straps.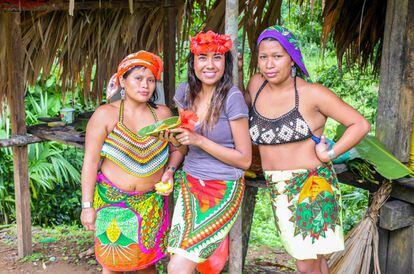 Throw yourself into the local life
Living with a local provides a sense of protection while making me feel closer to the culture of the country. Locals often give me the best advice on how to visit less touristy places and have a more authentic travel experience. Thanks to Hector, a fisherman I spoke to in Ixtapa Zihuatanejo, I discovered the best seafood restaurant in Mexico.
The fear of traveling alone is alleviated by actually traveling. With or without fear, there are a growing number of female explorers, who are finding each other, creating community and keeping each other strong. To repeat what I have said in my videos: "Travel, you are not alone."