More from the city Two county students can breathe easier about money for college thanks to scholarships offered Tuesday through a partnership between the Big Rock Foundation and the Carteret County Public School.
Grace Fulcher, a graduate student at East Carteret High School, and Molly Arnold, a 2021 graduate of Croatian High School, are the first recipients of the Big Rock Teaching Fellowship.
Officials from the Big Rock Foundation and the Carteret County Public School present the scholarships to students during a short ceremony at Big Rock Landing on the Morehead waterfront.
Ms. Fulcher and Ms. Arnold will receive funds to cover tuition, books and fees for the degree in education, to be completed in partnership with Carteret Community College and a similar university within the University of North Carolina system. Scholarship recipients are obligated to return to teach in the Carteret County public school system for a period of four years when they earn a teaching degree.
Ms. Fulcher, who will attend CCC in the fall and would like to become an art teacher in elementary school, said she was excited to be one of the first recipients of the award. Once she completes her CCC prerequisites, she plans to transfer to East Carolina University to complete her degree.
"I was born and raised in Carteret County and I want nothing more than to go home and know here in my county," she said. "I want to watch the children in our community thrive and my dream is to be one of the teachers to help them grow and learn."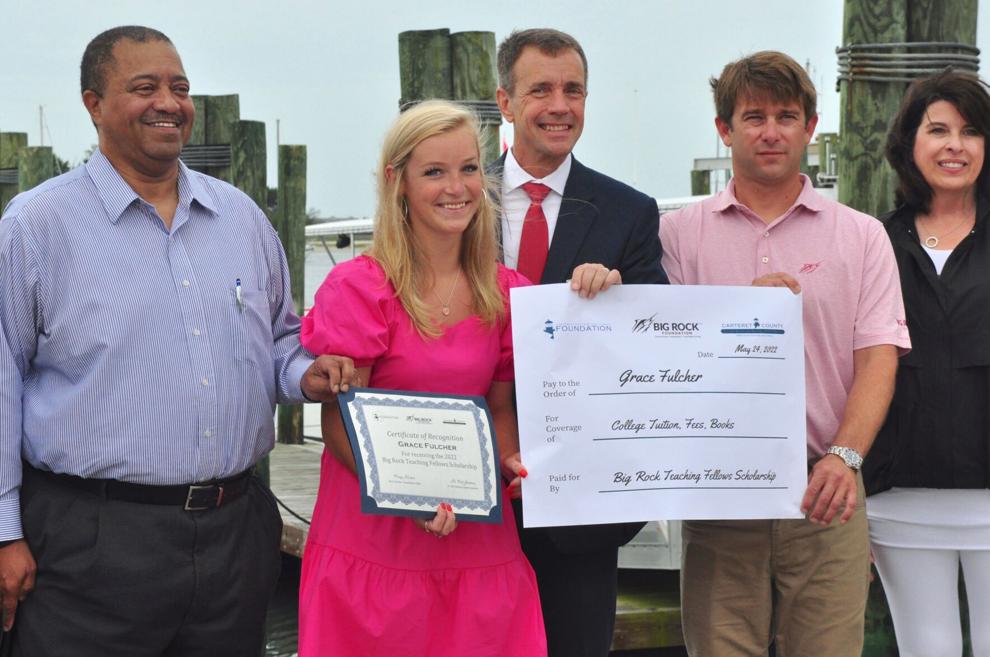 Ms. Arnold, who has already completed teacher preparation classes at CCC and is enrolled in Partnership Teach at ECU, said she was also grateful to have received the scholarship.
"I am so grateful for this opportunity," she said. "I have been in Carteret County my whole life and coming back to teach in a community that has given me so much is incredible. I have always wanted to be a teacher."
The Big Rock Teaching Fellows Scholarship was established in November 2021 with a groundbreaking gift of $200,000 from the Big Rock Foundation Scholarships Committee following the 63rd Annual Big Rock Blue Marlin Championships in June 2021. Scholarship applications were accepted in spring 2022. Students selected as recipients were Their selection is based on their application and interview process.
Perry Harker, president of the Carteret County Public School Foundation, and vice president of corporate and community education at CCC, said he was excited to be a part of offering the first scholarships.
"We have started a Teaching Fellows Program to 'develop' our local teachers, and this is an exciting step in that direction," he said. "We are very grateful to the Big Rock Foundation for their tremendous support and congratulations to the first two scholarship winners."
Mr. Harker also encouraged county public school students interested in teaching in Carteret County to speak with their high school counselors about the opportunity. Applications for the scholarship will open again in the fall of 2022.
Emre Ivey, President of Big Rock Blue Marlin Tournament and a member of the Big Rock Foundation Board of Directors, who attended the ceremony, said, "Helping provide funding for education through our grants is fantastic. We hope the individual draw for students to participate in this will continue."
Among the scholarship recipients, Mr. Ivey added, "Today is a great day. I look forward to seeing the great teachers they become."
Superintendent Dr. Rob Jackson said he was grateful to both institutions for providing this opportunity to students of the district as well as to the district's public school system.
"The Big Rock Foundation is making a huge difference across our community and many of our schools have benefited from its grants," he said.
He told the students, "I am so excited that you two are paving the way and I can't wait to see you in two or four years when your names appear on the classroom doors and we will see excited kids in your classrooms."
The Carteret County Public School Foundation is served by a Board of Directors made up of 12 volunteer members and three ex officio members. It became active in 2010 with a mission to promote excellence in education by supporting students, teachers, schools and educational programs.
The Foundation focuses on enriching education for all students, supporting faculty and encouraging support for public education by securing funds for innovative projects that cannot be funded with local, state, or federal dollars. As part of its function, the Foundation facilitates various scholarships as well as the Big Rock Teaching Fellowship Scholarship.
CCPS raised additional funds for the scholarship in March during the Let it Shine Gala. Half of the $50,000 raised is earmarked for the Big Rock Teaching Fellows Scholarship. The other half is for employees and the Student Aid Fund.
To contribute to the Big Rock Teaching Fellows Scholarship Fund or other efforts of the school's foundation, contact Jennifer Johnson, Foundation Secretary and CCPS Chief Communications Officer, at the school system offices at 107 Safrit Drive in Beaufort. Donations are tax deductible.
Call Cheryl Burke at 252-726-7081, ext. 255; email [email protected]; Or follow us on Twitter @cherylccnt.