Today 11
Location: desert
Started: Mile 116.0
End: 131.5 miles
High Mileage: 15.5
---

It was very cold this morning! Ali and I waited 30 minutes and then got up at 5:45am when it was a bit warmer. The morning was cold, foggy, and grueling. Ally had a hard time with her sore feet, so when we stopped to get water, she grabbed her lunch bag and was very happy to get a lighter pack. Weight regained after lunch. Also at the water, I helped Bigfoot and his wife get water because they had no way to room him. I used a cnoc water bladder that you can open the back of and use as a scoop.
Today's terrain has gone from plain Southern California desert to a really neat big rocky field and then outgrown a lot of wildflowers. I really enjoyed the color blue. There is a surprising amount of wildflowers here.
The ducks, Rolls Royce and Ellie weren't at our camp tonight. We stopped at the location we wanted and were the first hikers to make it to the camp! That never happens when we're with the ducks. We got the best spot and made a nice dinner of mashed sweet potatoes and mac cheese.
While setting up the tent, I thought I had lost the tent bag and ended up bringing everyone (Sami and Andy) to help out with the search. After a while I found it under my shoes! I am very grateful to everyone who helped with the research.
I'm happier today than I was yesterday, it's so nice when it's just Allie and me. We are feeling happy tonight but the climb to camp was really tough on our feet. Ally was in pain while trying to sleep. I am really impressed with how well it performs. It's getting stronger fast and has actually made it to the upside today. Tomorrow we go 13 miles and then 5 miles the next day to Paradise Valley Cafe (PVC)! PVC is a popular restaurant right next to the boardwalk that serves good and nice food for hikers.
twelfth day
Location: desert
Started: 131.5 miles
End: mile 145.4
High mileage: 13.9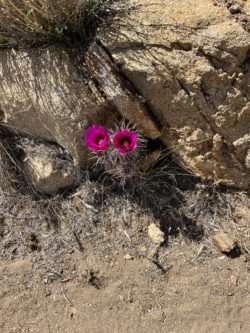 In the morning, Ali and I felt really strong. It was a really hot day and in the afternoon we had lunch for 2 hours under a tree and met Eagle Eye, Outlaw and Penguin Superfeet! It was nice of them to be involved. That tree was the only one around! It was a lot of climbing all day and the heat was really harsh.
In order to get the midday waters, I walked down a dirt road and had to climb a bridge to Tule Spring. I don't mind the steep climb, and in exchange for the water, Allie filters it and makes an electrolyte drink. We've found a lot of opportunities like that to use teamwork and that makes a huge difference.
Two miles from the oasis of Mary wandering, hair effects of heat exhaustion and low blood sugar and dehydration. I was also feeling low on blood sugar from the quick resupply at Montezuma Market. We barely had enough to eat and the food we ate was unappetizing. After some noon (electrolyte drink), some peanut butter, rest and go slowly, Ally and I arrived at Mary's house where we had a quick dinner, rested, and spent the night.
Marie's place was really cool, with tables, a small library and a big water tank. The only annoying part was several dogs barking while we were trying to sleep.
thirteenth day
Location: desert
Started: mile 145.4
End: mile 155.7
High mileage: 10.3
Today we got to PVC at 9am and stayed there until 3:30pm. Allie found our restocking box and our microspeaker box and we had a nice breakfast. The breakfast burrito was gigantic! We also charged our electronics and had burgers for lunch. Turns out I lost my wall plug so we just had an Allie. I ordered another one to the next town: Idywild.
I encountered Sunshine (I went up some AT with her in 2018) which was a fun surprise because I thought she was too advanced I wouldn't be able to see. It was really cool catching up with her and introducing her to Allie. Sunshine made CDT in 2019 (and blogged about it on The Trek) and this year PCT was the last track for its Triple Crown!
We walked 4 miles in the evening and camped solo. Ali and I had a heart-to-heart and she told me she was miserable and didn't know if she wanted to go on. She was really afraid that she would disappoint me but she couldn't keep that inside. Her ability to say how she feels and express her feelings is one of her favorite traits – it's a useful skill.
We've talked about it and decided we're going to leave the ducks after Idywild and just focus on our altitude and us. We will also increase the amount of Nero's, zeros and comfort, and make sure we do our best to enjoy the track. We'll see if that helps and then reevaluate it.
The trail is very difficult and very difficult. Every day we are tired, sore and dirty and it hurts to see Ally so miserable. It's also tough because our lives before the track were really excellent. We are not here to find ourselves or to run away from something. We are here to share a unique experience with each other and to work together to overcome any challenges that come our way.
Disclosure of subsidiaries
This site contains affiliate links, which means The Trek may receive a percentage of any product or service you purchase using links in articles or advertisements. Buyer pays the same price they would otherwise, and your purchase helps support The Trek's continued goal of serving you high-quality backpacking advice and information. thanks for your support!
To find out more, please visit the page about this site.