In the last quarter of 2021, research by industry analyst firm Gartner indicated that nearly a third of IT workers in Australia were actively looking for new jobs. This percentage was significantly higher than that of the broader market, which was 23.4% in the previous quarter only.
Moreover, additional research by Gartner indicated that the rate of IT workers in Australia over the same period with a high intent to stay with their current employer was 19.6%, well below the global figure (29.1%).
By comparison, in the immediate prior quarter, 40.5% of Australian employees in all industries reported a high intent to stay with their current employer.
These numbers highlight a technology sector that appears to be struggling to retain its talent in the IT field. This trend, combined with an ongoing shortage of tech talent – exacerbated by the border restrictions caused by the pandemic – has put many companies in a difficult position in terms of technical resources.
Priorities are changing among Australian IT workers
As a result, local IT leaders are finding new and innovative ways to attract and retain IT workers with the skills they need. And as the rate of digital transformation continues to accelerate across the market in the wake of the pandemic, these skills come with a price tag.
Many organizations are struggling to meet their needs for tech talent, which has slowed new hires, with more time to fill roles, says Neha Kumar, senior executive advisor at Gartner. This, in turn, has the potential to slow down the overall delivery of digital work in organizations.
As Gartner figures indicate, attrition rates are also rising. In Australia, 27% of organizations reported an attrition level of more than 25% in the last quarter, according to Kumar.
While border issues have exacerbated the limited availability of IT talent, Kumar points out that the bigger problem is that the local market is not in a position to simply work its way out of the persistent shortage of technical skills.
We don't just deal with closed limits, time to fill jobs, and standard tapering levels. We also talk about the fact that within the country, you are not only competing with other organizations, but with people [who are] Change their relationships to work as well. Work-life balance and work standards [is changing]. "It's an important aspect that they need to address," Kumar told CIO Australia.
From Kumar's perspective, the organizations that have proven successful in finding, hiring and retaining skilled IT professionals are the ones that are not just looking for answers in terms of employment. Instead, they take a holistic approach that includes elements such as lifestyle, culture, and employee investment.
"The answers go beyond just hiring more people. For the CIOs we talk to, it's a slow realization, but it's a realistic realization, that they need to embrace [changing] Expectations and prioritize shift in employee perspectives," Kumar says.
"The fact that employees want to work very clearly with employers who offer flexibility is something that many CIOs have recognized. They need to embrace and balance that with expectations of business outcomes. It can no longer be just successful business outcomes. For these leaders They need to balance employee outcomes as well."
In general, CIOs are creative in working on their employee value proposition; They are trying to be smarter and more determined in working out what they can offer potential candidates. The leaders who have shown some success in recruiting and retaining talent are those who push boundaries and instead make bold changes.
On the employment front, the hybrid job offer is no longer a 'if' but a 'how'. "The questions now revolve around how to do it [hybrid] Well, how do we make it work," says Kumar.
This is just one of many elements that feed into the broader question of how IT leaders and their organizations can communicate what they can offer to potential recruits. A lot of it has to do with feelings.
Success when hiring starts with the right language
Kumar suggests that it is important to understand the type of emotion an IT leader might use to describe and offer a new position in a potential candidate.
"The messages we give to a lot of CEOs now are not just about choosing the value proposition, but how to communicate that at the different touch points that you have with the candidates," Kumar says.
For example, IT employees know that they need to develop, and that they need to improve skills to remain relevant in a fast-moving market environment, so it is a good idea to use language when taking on a new role that clearly states how the organization wants to invest in and develop the candidate.
Although a candidate's emotional response is an increasingly important factor, this does not mean that financial compensation has declined. Compensation hasn't always been in the top five priorities for job seekers, but now it's ranked second, according to Gartner. Salaries still need to be competitive.
In terms of employee retention, Kumar points out that it is not sustainable for the industry to work its way out of a skills shortage, and therefore organizations need to invest in their employees. This plays into the retention of skills. But Kumar is not only talking about technical skills. Investing in management skills can also make a huge difference in whether employees stay or leave.
And good managers need good empathy.
"A lot of people leave their managers. They leave managers who, for example, implement their policies too harshly. So, [it is important to] Take the next step and invest in training your manager to lead with empathy, to ensure they understand the importance of employee well-being in the current context and to prioritize their employees; Make room for those conversations instead of trying to avoid them. These are the things that characterize organizations with good ratings for people managers," she says.
As a strategy, investing in people management is key, according to Kumar, and the way a manager manages a mixed workforce is one of the most important things to do right.
How CIOs in Australia adapt to employee needs
One local IT leader who takes a relatively holistic approach to talent recruitment and retention is Jason Coy, CIO at Perth Curtin, who likes to incorporate a triad of factors into his recruitment and management activities.
Curtin University operates in a market densely populated by major oil, gas and mining companies that can offer technical talent at the highest price, vying for talent on the combined strength of the interesting and meaningful work they do, the organizational culture they foster and the ongoing training and development they provide.
"We think we have one of the most amazing transformation projects going on. We think we have a great organization culturally. Then we also had a great training program that we do with Amazon Web Services, called ElevateU. I think a lot of our value proposition is a combination of that triangle. I think It's so powerful: a great organization, great projects, great development," Coy told CIO Australia.
"As long as our salary is competitive, I think the combination of these three other elements has allowed us to attract some great talent," he says.
Being a relatively unique company in the Perth market, as one of the largest organizations in the city that does not work in the resource or government sectors, is likely to help offer value to potential candidates.
Curtin University
"We are an institution driven by educating future leaders, and today's students become tomorrow's leaders. So, I think this resonates with a lot of people," Coy says.
Given Kumar's advice on eliciting the right emotional response in potential candidates, Coy and his team seem to strike the right balance in terms of language and a diverse approach to attracting and retaining new talent.
Not surprisingly for a major university institution, Curtin has a very structured development program. From Coy's perspective, this plays a huge role in how the university continues to deliver value to IT talent and keep employees engaged in a positive way.
The secret to an effective internal development process, according to Cowie, is a structured approach that is less about throwing money haphazardly into training programs that may not be in the best interests of the organization or the employee and more about targeted outcomes.
At Curtin, the IT staff training and development program is closely linked to the university's ongoing transformation program.
"It is beneficial for both sides. The employee can see that they will get great development and great exposure to a pilot project that probably very few companies do in Perth. But then this training also raises the skills, and that benefits Curtin as an organisation."
This structure appears to be the hook that not only keeps people on board, but also keeps them on board, according to Cowie. "We have the transformation program, we have the training program, and that connects our internal employees to development and retention," he says.
The promise of interesting work is very much a magnet for potential tech talent, says James Cookson, chief product officer of Stax for the cloud management platform.
Like Cowie, Coxon often faces stiff competition from other potential recruiters in its home market. However, in many cases, the biggest obstacle to finding and acquiring new IT talent is the determination of existing employers to hold on to their employees, and retain them by offering a higher salary.
Coxon's perfect blend of elements to attract new recruits closely aligns with the "triangle" of Cowie's debit card features – a competitive salary, fun work, and great culture.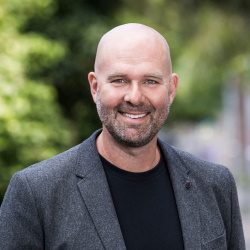 Stax
Hiring referral bonuses internally often helps the process along. But also the company's move to capitalize on the hybrid business trend that has emerged in the wake of the pandemic by making the most of opportunities to hire talent in regional parts of Victoria, Queensland, New South Wales and even Western Australia.
"This opens up a group of individuals that we wouldn't normally be able to hire, which is great," Coxon told CIO Australia.
In fact, Coxon and his team take the hybrid work trend to heart, giving employees the flexibility to work in the way that best suits their individual needs. But Coxon knows there's more at stake. In fact, he understands the value of empathy in management, Kumar noted, and is working to bring that into his role as manager of a team of high-level IT professionals.
"My role as co-founder and chief product officer means that I need to be able to be there for my people in whatever they want to do, want to achieve, or want to achieve. So, for me, to be the support for my people and to be that empathetic ear very much about what makes them move and what motivates them to lead, what challenges them in a good way, what challenges them in a bad way, would be Cookson says.